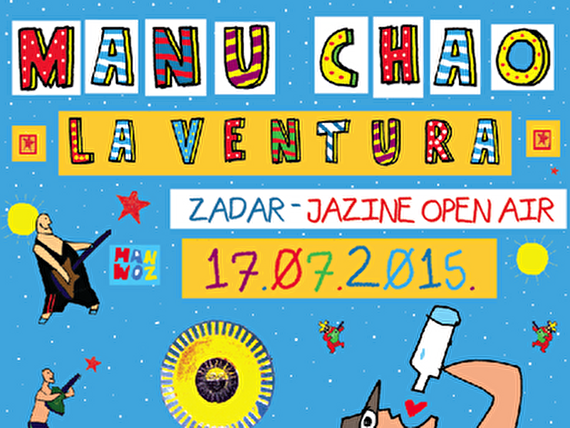 17. JULI 2015
MANU CHAO LA VENTURA
On July 17th Manu Chao along with his band La Ventura visits once more Croatia and for the first time Dalmatia, where his music influences an army of followers, and gives a live gig at the open-air stage in Zadar.

French born and of Spanish origin, Manu Chao´s music is a multi-cultural embrace of musical styles, flavours and rhythms. Singing in French, Spanish and English with distinct African and Southern American influences, he is best known for his tongue-in-cheek protest songs, resistance to the temptations of mass marketing, and for making some of the most fun and danceable music around. 

Heavily influenced by the UK rock scene, particularly The Clash, The Jam and Dr. Feelgood, Chao and other musicians formed the Spanish/English rockabilly group Hot Pants in the mid-1980s. The group released a demo entitled "Mala Vida" in 1984, which received plenty of local critical praise but otherwise gained them little attention. By the time the group released their first album in 1986 the Parisian alternative music scene had taken flight, and Manu, his brother Antoine Chao, and friends such as Alain from Les Wampas formed Los Carayos to incorporate this sound with the rockabilly and punk styles of Hot Pants. Los Carayos remained a side project of the artists for eight years, releasing three albums in the first two years followed by a final album in 1994.

Manu Chao had been a well-known member of the Parisian alternative music scene, in bands such as Hot Pants and Los Carayos. In 1987, Chao, his brother Antoine Chao and their cousin Santiago Casariego founded the band Mano Negra, which met with success in France first with the hit single Mala vida and then Mexico, Central and South America, where the band toured. The band split in 1995.

Chao sings in French, Spanish, Arabic, Galician, Portuguese, English, Italian, and Wolof, sometimes mixing them in the same song.

Entrance ticket in presale: 180,00 kn (approx. 25,00 EUR)
On the day of the concert: 195,00 kn ( approx. 27,00 EUR)
Sale spots:
Zadar: "Petrol" gas stations, "Tisak" shops and kiosks, "Exclusive Change" exchange points
Zagreb: Dirty old shop, Dallas music shop, Rockmark
Split: Dancing Bear
Šibenik: Dallas music shop
All "Eventim" sale spots in Croatia, as well as online on: www.eventim.hr