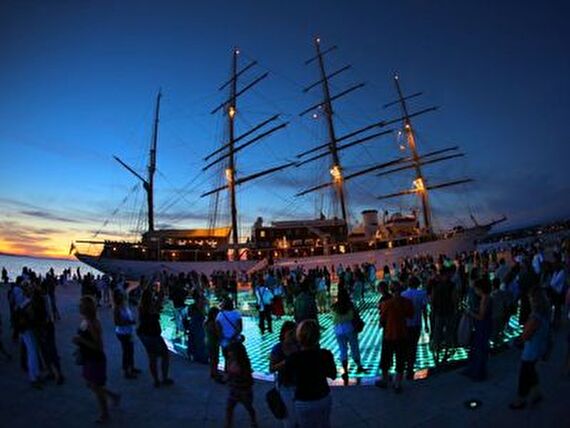 30. JULI 2015
14th NIGHT OF THE FULL MOON
Traditional festival of culture, food and customs of Zadar region. On the night of the full moon in midsummer night, the Riva of Zadar is illuminated by torches and candles.
Ships are converted to floating booths which offer everything, from the best tuna and sardines from famous fishermen from Kali, up to famous Novigrad mussels.
Old temporary taverns serve diverse traditional dishes from Nin falcon to figs, cheese, brandy and other delicacies. If you are not able to visit the surrounding area of Zadar and Zadar islands and meet local folklore and customs, be sure to visit the Night of the Full Moon.
You´ll be enchanted!
Night of the Full Moon occurs during the night of the full moon, in period from July 30 to August 01, 2015.
More than a decade has passed since the lights where turned off for the first time at Zadar waterfront so the moon can show its full splendor and shines and shine in its true splendor, awoke in us memories of past time and our ancestors.
"That must be the most beautiful sunset in the world!", Alfred Hitchcock muttered drinking Maraschino on Zadar waterfront 50 years ago, not knowing that the rising moon in the same canal is even more beautiful.
Night of the Full Moon is an event, festival of culture, food and customs of the Zadar region - time machine at your fingertips.
It was an evening that turned us for a moment in time when the city of Zadar was the city of merry ladies and gentleman, who enjoyed a happy symbiosis with their coastal waters, islands and hinterland.
Valuable fishermen and laborers lived formerly of trade with the citizens, and in the present, every year, Zadar invite their descendants and great-grandchildren to be at least that evening reminded how it used to be.